News


The Auto-Ethnographic Turn in Design

Partner teacher Louise Schouwenburg, in collaboration with Michael Kaethler, recently published The Auto-Ethnographic Turn in Design (Valiz, 2021)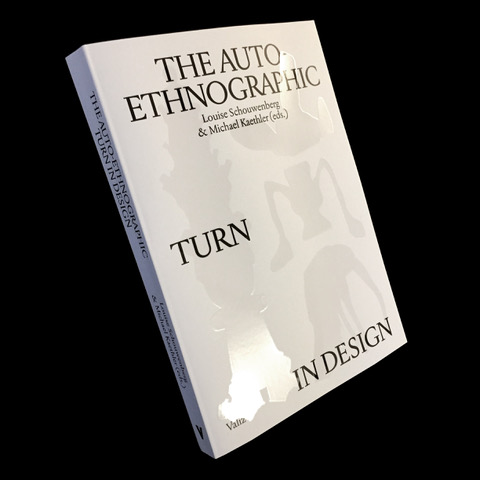 Auto-ethnography gives an authority to the designer as someone with something to say and a means to say it.

Puts forward a broad scope of what auto-ethnographic design entails: situating the designer at the heart of the research and connecting this position to the culture of design and the broader cultural realm.

Contains a wide variety of both conversations as well as practices related to this important turn within design





MASieraad Alumni

Challenging Jewellery alumni Eva van Kempen reworked her Master thesis on filigree (2020) at the Sandberg Instituut and published it in the peer reviewed Journal of Jewellery research (May 2021).The title of her article is The Filigree Ambassador: A Strategy to Revive an Intangible Cultural Heritage & Preliminary New Theory on the Origin of Filigree




MASieraad online Q&A session



Want to know more about the
MASieraad Hasselt Amsterdam Masters Programme?

Join us for an online Q&A session with Gijs Bakker, Ted Noten,
Liesbeth den Besten & Ruudt Peters.

21 January 2022 at 5.00 PM Amsterdam Time via Zoom

Subscribe by mail: info@masieraad.com




NEW PARTNER TEACHER - ESTELA SAEZ

We are happy to introduce you that Estela Saez will be joining the MASieraad team.
She will be the partner teacher for Ruudt Peters. Together they will be giving a 6 week intense MAStudio workshop.

See more of her insights via the interview below.




APPLICATIONS FOR THE 2022-23 ARE OPEN!

APPLY NOW! APPLY NOW! APPLY NOW! APPLY NOW! APPLY NOW!







2022-2023 Applications Opening for MASieraad Hasselt-Amsterdam
MASieraad has officially started its international two-year Masterclass Programme MASieraad Hasselt–Amsterdam, or MASieraad H-A. The integrated educational Programme is in collaboration with PXL-MAD School of Arts Hasselt.

Follow the academic year and programme on

instagram

or contact

info@masieraad.com

for more information.


The application rounds have started for the new academic year 2022-2023.

The registration procedure consists of the following steps:

20 November 2021 – 17 January 2022: The student applies via the link https://apps.pxl.be/forms/MASieraad_HA. The student is assessed on education level, proficiency in the English language and quality of portfolio.
18 January – 6 February 2022: After admission to the second round, the student has a personal interview with teachers from MASieraad H-A and may or may not be admitted to a definitive enrollment.
1 March – 16 April: Definitive registration subject to simultaneous payment of an advance of € 3500,-
August 15: Payment balance is due




Mingler Scholarship, deadline 1 March 2020

A Mingler Scholarship will be made available once a year for a collaboration between a scientist and an artist. The Scholarship is intended for artists (from all artistic disciplines) and scientists (researchers from the Humanities, Social and Natural Sciences) who want to start a research project together. Only collaborations between art and science are eligible for the Scholarship

The Scholarship consists of a sum of € 10,000 (ten thousand euros).

Application form

The application form must be sent to avk@knaw.nl before March 1, 2020.



Challenging Jewelry students workshops in Shanghai, december 2019


Challenging Jewellery presented a lottery "The Slow Reveal" on the 8th of November 2019


With this lottery, the students wanted to raise money to finance their artist in residence in Shanghai. Both the graphic design of the invitation, and the presentation were of a very high level. On social media and by email, interested collectors and buyers were invited to come to the party / performance. In this disco-like setting, every piece of jewelry was displayed in a very disruptive manner. A gray walking curtain, with one arm held out, presented each piece of jewellery or object, while a distant automated voice praised the work to the public. The anonymous curtain with the jewellery, danced to the music through the room. It was a totally different way to promote jewellery: it was playful, entertaining, original and effective.

Ruudt Peters




Working session, 23rd of October 2019
A busy day and good vibes today at the Trippenhuis, seat of the KNAW (Royal Academy of Science and Society of Arts), to discuss the future of MASieraad. With Ruudt Peters, Leo Versteijlen, Liesbeth in 't Hout, Liesbeth den Besten, Ted Noten and Gijs Bakker.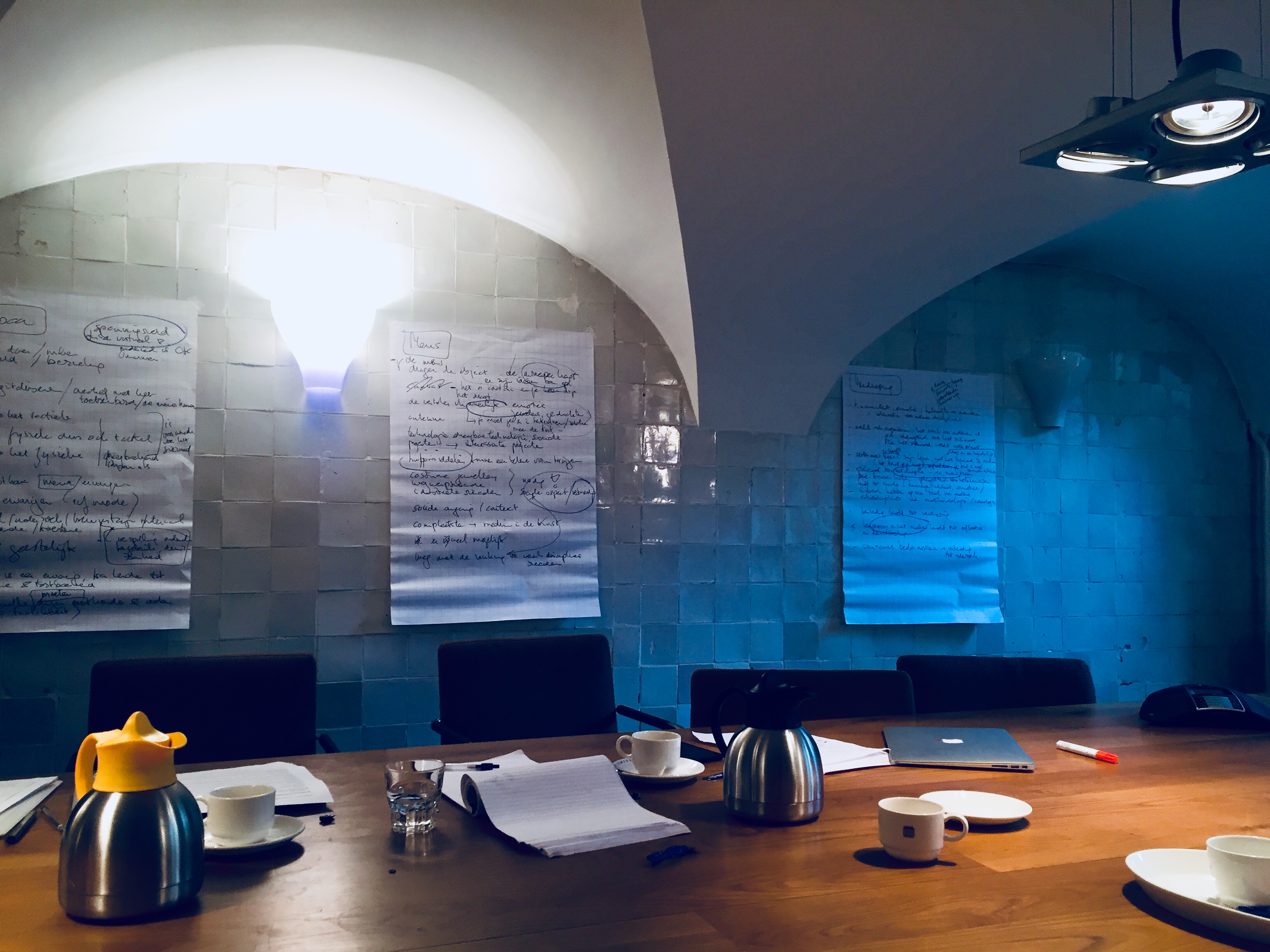 Challenging Jewellery assesments, 12th of June 2019
MASieraad's first project started at the Sandberg Institute in Amsterdam, as a temporary experimental 2-years Master called Challenging Jewellery.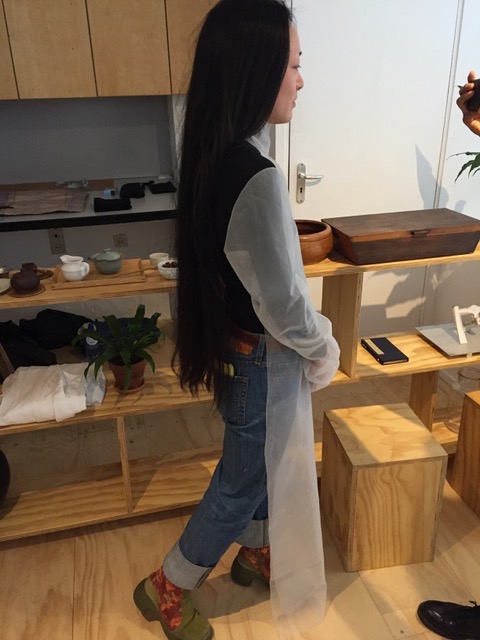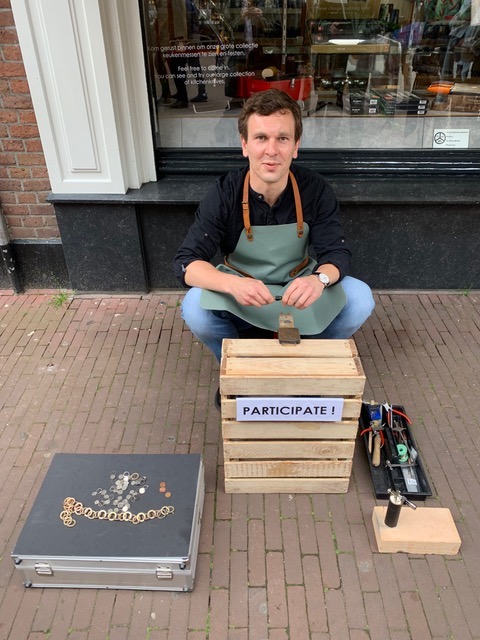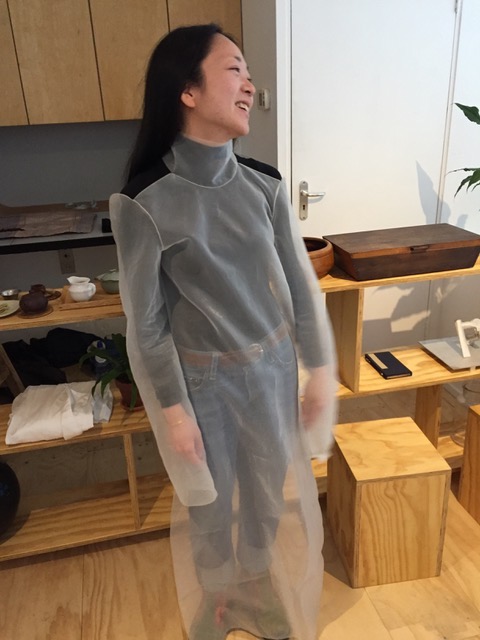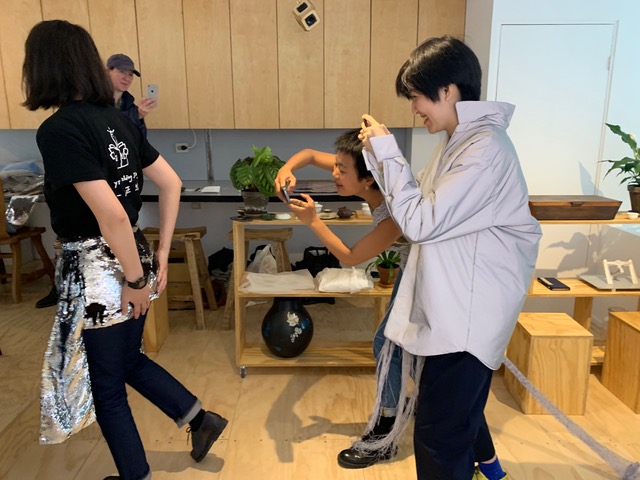 Hangzhou
MASieraad is at present in conversation with China Academy of Art, Hangzhou about their educational program.
Antwerp
On the 29th of March 2019 Board members Ruudt Peters en Leo Versteijlen organized an excursion with the MA students of Challenging Jewellery (Sandberg Institute Amsterdam) to Antwerp, where they visited the Wunderkammer created by Axel Vervoordt at the DIVA Museum, and got a private tour at Het Kanaal, in Wijnegem, Axel Vervoordt's architectural project, where living, working, culture and art merge in an industrial and architectural
environment.
Schoonhoven
On the 15th of January 2019 Board member Gijs Bakker organized an excursion with the MA students of Challenging Jewellery (Sandberg Institute Amsterdam) to Schoonhoven, where they visited Studio Jan Matthesius, the Silvermuseum and the Vocational School of Gold-, Silversmithing, and Watch Making (Zadkine College, Schoonhoven).
Studio visit Jan Matthesius
Foundation
Since October 2018 MASieraad is a foundation, aiming at the promotion of jewellery in a broad sense, through the organisation of education, workshops, lectures, exhibitions, and publications. The board consists of Gijs Bakker (chairman), Leo Versteijlen (treasurer), Liesbeth den Besten (secretary), Ted Noten and Ruudt Peters. Liesbeth in 't Hout is a supportive collaborator of the board.