The first graduation show of MASieraad Hasselt-Amsterdam

Warm congratulations to the first cohort of MASieraad Hasselt-Amsterdam students: Yotam Bahat, Jana Brevick, Laila Marie Costa, Ana Escobar Saavedra, Daniel Jirkovsky, Meeree Lee, Jinzi Liu, Into Niilo, and Yifan Zhang.






This group of 9 talented students from all corners of the world presented their graduation work in a superb exhibition at Looiersgracht 60 in Amsterdam. The exhibition design was guided by Aldo Bakker.
The diverse background and identity of the students led to a creative melting pot in which fascinating ideas and concepts were explored. Questioning and exploring one's own identity is a reality for many of the students, but geopolitical and ecological issues also play a role in their work. While the relationship with the body and the human being is central to the work of all.

Click here for the exhibition document with all information about the participants and their work.

We are very proud to present a photo gallery of the Amsterdam exhibition at looiersgracht 60, with many thanks to photographer Tijmen Smeulders @tijmen_smeulders.


ANA ESCOBAR SAAVEDRA, POROUS

Identity, identification, and representation explored through, among other things, hand-carved stone objects inspired by containers for data storage, memory, and social constructions.
For Ana Escobar Saavedra, the Colombian student who ended up in Dubai after many wanderings and followed part of the program online, her identity is both porous and a daily reality. Identity, identification and representation are reflected in, among other things, poetic hand-carved stone objects inspired by data storage containers.




1. Standard/Unique series, birth bracelet, A4 page, ID-1/CR80 id cards, ID-3/B7 passports, variety of carved granite and marble.
2. Rite de passage / Right of passage, locket/Box, carved shiva gold granite, brass.
3. Nest, locket/box, carved marble, brass.
4. Mirror, carved marble, cotton.
5. Celeste, pendants installation, brass lockets, poli-cotton thread, print on archival matt photographic paper.
6. Elizabeth, print on archival matt photographic paper and watercolor paper.
7. #5 / #40, hand embossed velum.
8. Mending, found wooden chair, prints on archival matt photographic paper.
9. Fragmenting and Reconstructing series, baskets and weavings, prints on archival matt photographic paper.
10. Destino, brooch/pendant, found stone, brass, steel.
11. Id 4, pendant, carved marble, poli-cotton threads.
12.The last layer, necklaces and objects, carved found stones, poli-cotton thread.

ana.escobar.ae@gmail.com – @anaescobarsaavedra


DANIEL JIRKOVSKY, THE "N"

A pilgrimage with marked stones in Czech Republic, and brooches made from the leftover material, to rescue from oblivion the genocide of the Sudeten Germans in Czechoslovakia just after the end of WWII.
Daniel Jirkovsky researched his family history of Sudeten Germans in former Czechoslovakia.The marking of Sudeten Germans with an N, their exile and a genocide took place in Czechoslovakia shortly after WWII ended. Daniel brings this painful history out of oblivion by marking stones on site along a kind of pilgrimage. He transforms the N he cut out of the stones into wearable jewellery in the shape of a mirrored N.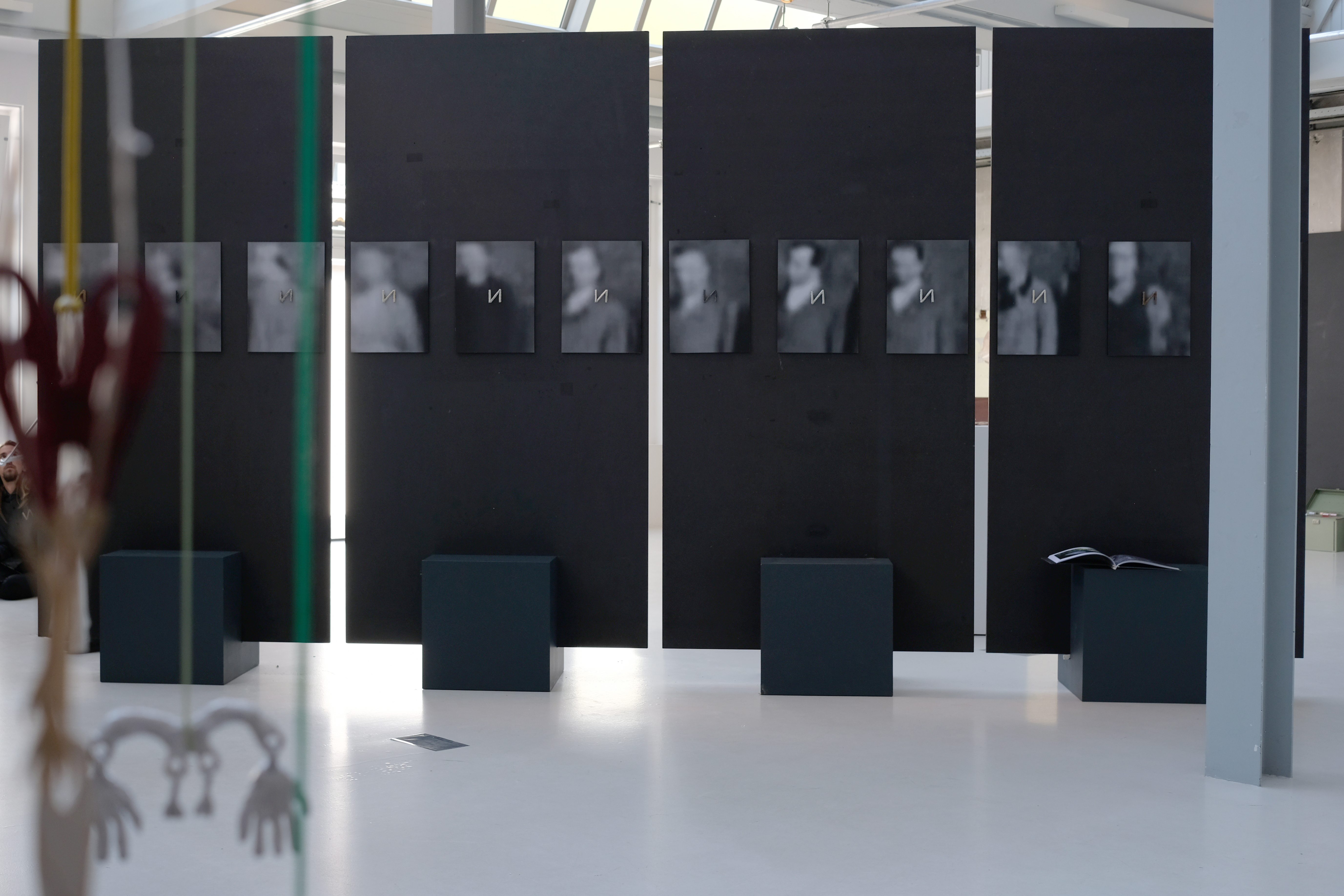 1. A collection of 15 brooches, "N", various carved stones and stainless steel.
danijir@seznam.cz – @jirkovski



INTO NIILO, I HAVE NOTHINGTO HIDE

With an ambivalent and dazzling jewellery collection, the artist moves on the territory of rebellion, dissidence, freedom and fear.
With her ambivalent jewellery collection I have nothing two hide, Into Niilo moves into the terrain of rebellion, dissidence, freedom and fear. Like a modern Robin Hood, she imagines in her Sabotage Repair Shop repairing precious jewellery, replacing the gems and charging the imitation stones with messages readable with UV light. The genuine gemstones are used to repair injustice.



|Revolution Nein!| series:
1. |I have nothing to hide| pearl necklace, artificial pearls [vintage]; silver [925] + white rhodium; 3d print [stainless steel]; nylon thread.
2. |Solitary cell| pearl necklace, cultured pearls; gold [14K]; oxidized silver [925]; nylon thread. *Memorial, Russia's oldest and most prominent human rights organization and a 2022 Nobel Peace Prize laureate, counted 558 political prisoners in the country as of April 3. |I am [not] afraid| choker, MOP colored beads [vintage]; oxidized silver [925]; resin; nylon thread.

|Sabotage Repair Shop| series:
4. |I have nothing to hide| necklace, silver [925] + white rhodium; synthetic quartz [emerald cut [23p 479ct]]; UV nail polish + resin.
5. ⠛⠑⠝⠑⠎⠊⠎ 9:6 |Genesis 9:6| ring set, silver [925] + white rhodium; cubic zirconia + UV Nanosital[R] [brilliant cut [157p 16,5ct]]; UV nail polish + resin. *Whoever sheds human blood, by humans shall their blood be shed; for in the image of God has God made mankind **written in Braille.
6. .--. .-. --- ..- -.. .-- .. ..-. . --- ..-. .- .-- .- .-. -.-. .-. .. -- .. -. .- .-.. |Proud wife of a war criminal| necklace, silver [925] + white rhodium; cental stone| Nanosital[R] + synthetic spinel [cushion cut [173.5ct]]; cubic zirconia [brilliant cut [189p 661ct]] *Morse code
7. |Götterdämmerung [Lust for lustration]| brooch, vintage brooch [c.1950]; cental stone| synthetic quartz [oval cut [65ct]] + silver [925] + white rhodium; UV nail polish + resin *Lustration in Central and Eastern Europe is the official public procedure of scrutinizing a public official or a candidate for public office in terms of their history as a witting confidential collaborator [informant] of relevant former communist secret police, an activity widely condemned by the public opinion of those states as morally corrupt, due to its essential role in suppressing political opposition and enabling of persecution of dissidents.

in2.the.into@gmail.com – @in2into



JANA BREVICK, NEW TOOLS FOR OLD WORK

Addressing the old work of digging, burying and transport, the shovel fulfills basic desires by extending the force of the human body. Twisting aspects with illumination or a gesture and material shift, the tool of drudgery morphs into one of exploration, creation and destruction.
The shovel as an extension of the body is Jana Brevick's theme. By recreating the shovel, she wants to highlight the experience of labor in a different way. When the shovel, a tool of drudgery, gives light, we gain a different relationship with it.Tools that are like rings around the fingers give rise to new movements of the hand.



1. Digging in the Dark, video and stills with various new tools.
2. Re-Tooled, printed PLA tool with LEDs, electric cord, 1550x230x100 mm.
3. Nigt Moves, printed PLA tool with LEDs, electric cord & paper, 365x124x78 mm.
4. Cut, fabricated sterling silver, 1.15tcw diamond melee (G, H, L-M, top light brown, champagne cognac and pink diamonds & mixed clarity grades) & leather, 80x70x70 mm, 128g.
5. Grab, fabricated sterling silver, leather tool, 89x128x45 mm, 130g.
6. Jab, fabricated sterling silver & leather tool, 168x115x40 mm, 183g.
7. Gardener's Delight #1, Reflective textile, muslin, zipper and garden shovel or fabric, 980x120x50 mm.
8. Gardener's Delight #2, reflective adhesives and garden shovel, 1250x185x90 mm

hq@janabrevick.com – janabrevick.com


JINZI LIU, THE WIND IS VERY STILL, GENTLY OVER THE TREES

The beauty of the cycle of nature lead Jinzi to a collection of silver rings for the palm of the hand. By closing your hand and opening it a flower starts blooming.
Under the spell of the beauty of the cycle of nature, Jinzi Liu decided to make the move from the temporary to the permanent. She designed a collection of silver rings for the palm of the hand.



1. A collection of 17 rings, 15171, Silver, graphite.

ljzryu@gmail.com – @jinziliu.liujinzi


LAILA MARIE COSTA, ONE JEWELLERIST IN SEARCH OF A ROCK OPERA

The bizarre jewellery and costumes seem picked up straight off the street but turn out to fit seamlessly on the body. They generate sound, movement and thus new stories.
Laila Marie Costa has made her neurodiversity and irrepressible collectiveness the subject of a project that focuses on jewellery, movement, sound and interaction with the body.The hoard, found, cleaned and sorted, became the subject of her work. Her bizarre jewellery and costumes appear to have been picked up straight off the street but, thanks to a continuous process of watching, testing and adapting, turn out to fit the body seamlessly.



1. Neckpiece for a Brave New World, wood chair frame, crucifix found on Amsterdam street, used nangs, miscellaneous collected, found and gifted materials, mattenklopper, and steel wire.
2.The Know It all Corrective Disfunction Slabber, necklace, wine bottle tops, bells, found wire and steel wire.
3.The Shy Clingy Child, necklace, used kitchen cloth, embroidery thread, onyx & base metal fastener and sterling silver wire.
4.The Quiet Introverted Ugly SilentType, necklace, foam insulation, bamboo straws, cotton thread and steel wire.
5. The Strangely Charming and Annoying One, necklace, wooden eggcups, tamborine zills, washers and other collected metal materials, eyelets and steel wire.
6.The Lagerphone for the Broken Hearted, necklace, wooden canvas stretcher, beer bottle tops collected at the Akademie's opening at MJW 2022, nails, plastic beads, eyelets, acrylic paint and steel wire.
7.The Angular & Argumentative Character, bracelet, bike parts, maracas, glassframe arms, base metal found bracelet, and steel wire.
8.The Angsty Misunderstood Btweenager, necklace, wooden letterbak, found, collected and gifted materials and objects, coffee pod capsules and steel wire.
9.The Uninvited Party crasher, bracelet, found and collected materials, escargot shells, maracas and steel wire.

lailamariecosta@gmail.com – www.lailamariecosta.com – @lazyliberty




MEEREE LEE, [PARURE] – PAR[ ]URE

Meeree Lee has expanded the parure (the classic jewellery set of matching jewellery) with a jewellery box, which transcends space and time, and embodies personal values.
Meeree Lee, who comes from a family of jewellers, extends the parure (the classic jewellery set of matching jewellery), with jewellery boxes. With the boxes, she aims to create space for subsequent additions to the jewellery set which transcend space and time and embody personal values.


1. Object [Paru...]re, Photo, wall frame, an earring, 14k gold mokume gane nails, 24k gold, 14k pink gold, wood, paper, optical film.
2. Object [Parure], Parure on the Box, velvet woods, magnets, brass lock handle and buttons, cushion, silver.
3. Object [Pa][ru][re], Flower fields jewelry show case, hand dyed recycled fabrics, thread, left over plastic buttons from fab lab, helped by lovely angels.
4. Object, Pa...[rure] vol 1, Object to box necklace, paper towel, thread, PET, rubber.
5. Object, Pa...[rure] vol 2, Box to object brooch, vintage jewelry box, sponge, polymer clay, brass.

meereeing@gmail.com – @2mm_eeeeee


YIFAN ZHANG,THE MISSING NO.9

With her missing No 9, Yifan Zhang wants to activate visitors to participate in her project in which the concept of participationis used in a non-coercive way. In her poster, she connects all 9 participants, for which she uses elements from their projects. Visitors can further extend the exhibition by taking stickers from the poster, sticking them on their clothes and taking them out into the world.


1. Poster with stickers, Selective Memory.
2. Book, Selective Memory.

yifan27.zhang@gmail.com



YOTAM BAHAT,THE CROWD

The crowd; Crowding - you and me, me and you, you and you, and me and me. Options and expressions by a jewelry maker for describing unity, life, and the fact that we are glued together.
Responding to the cultural struggle flaring up internationally, Yotam Bahat made objects and jewellery that are at once antidotes and utopias. His symbolic human figures merge and expand, away from a separatist past. His objects and jewellery are visualizations and expressions of a utopian world where we can see the other as part of us and feel compassion.


1. Crowded Crowd, A group of jewellery, drawings and objects, paper, pencil, cutting discs, colours and paint, aluminium, copper, brass, faith, steel, silver, glass beads, pewter, wood, Perspex, glass, thread (different types), bronze, ribbon, PVC, printed PLA, used Amazon package, glue, cardboard, wax, pearls, zirconia, sapphire.
yotambah@gmail.com – @yotambahat